4303 Main Street, Philadelphia, PA 19127, United States
4303 Main Street
Philadelphia
Pennsylvania
19127
US

Requirements for Rock Steady Boxing classes at Joltin' Jabs
Currently, all classes are being conducted in Manayunk at Joltin' Jabs, 4303 Main Street, Philadelphia, PA 19127.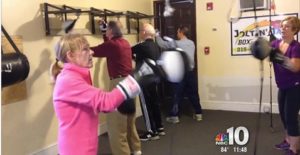 Criteria to Participate:
Clients need to fill out an application, have written clearance from their physician, and make an appointment for a private screening in advance of being accepted into a class.
You will need to download, complete and mail the following forms to The Parkinson Council, 555 City Avenue, Suite 480, Bala Cynwyd, PA 19004.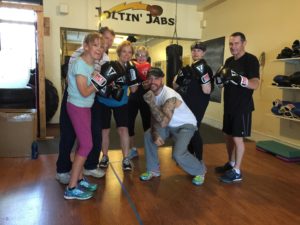 All forms are required!
At the moment, there are 2 class levels both designed for individuals with early onset PD or those with the beginning symptoms of PD.  For both classes, clients should be able to be on the feet for 30 minutes without a break and have had no falls in the past three months.
Level 1: Tuesdays, 11 am to 12:30 pm
The focus of this class is to improve over-all fitness, work on postural imbalances, deep breathing techniques and maintain a healthy body.  Classes are fast paced, and transitions are rapid between exercises.  No assistance is required.
Your symptoms should be mild, inconvenient but not disabling.  You should have no cardiac issues and the ability to self-monitor.  Clear communication is expected.
Level 2: Tuesdays, 11 am to 12:15 pm and Thursdays, 11 am to 12:15 pm
The focus of this class is to maintain fitness level, address postural imbalances, encourage deep breathing, improve balance and stress accuracy of movements.  More time is given for transitions.  Very little assistance is required.
Clients may have bilateral symptoms, but minimal disability.  Only mild balance impairment is present.
If you have any questions, please contact The Parkinson Council at 610.668.4292.
To sign up for an assessment and classes, click here!