Workshops for People with Parkinson's and their Care-Partners Friends and Family Tour!
April 25, 2018 @ 6:00 pm

-

7:00 pm

$10.00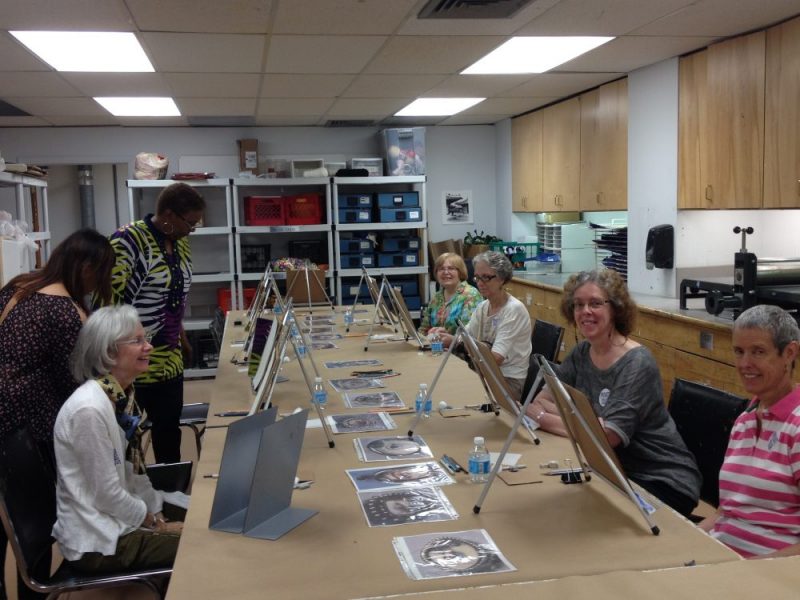 Workshop by the Philadelphia Museum of Art Accessible Programs for People with Parkinson's Disease and their Care Partners
"Over The Top"  The Art of Embellishment

Tour
Grand salons in Paris are often used as state rooms for formal receptions. To demonstrate wealth and status, the salon was typically decorated with immense mirrors, carved and gilded paneling, and sculpted reliefs.
On our tour we'll be looking up at the lavish gilded ceilings. sparkling chandeliers, and fanciful room decor. We'll travel from England to France viewing the spectacular period rooms at the Philadelphia Museum of Art
Work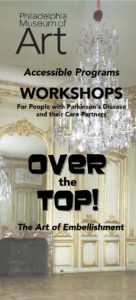 shop
In the studio we'll be going over the top! We will create our own unique rooms with glittering chandeliers, coffered ceilings and decorative floors using one or two point perspective, embossing techniques, and a variety of foils and textured papers.
Friends and Family Tour
Join us once a month on a Wednesday night for a private guided tour of the museum's enormous collection.
This month will be: A Walk Through Time
Visit the medieval Cloister, a 16th-century Indian Temple Hall, the country estates of 18th-century England and France, and a Japanese tea house! Bring the whole family! Registration is required
Information
The fee is $10.00 per person. Care partners and personal attendants are admitted free.  Click here for information and to register.
Parking is free of charge. Classes are limited, so please register early! Contact Accessible Programs at 215.684.7602.
The Philadelphia Museum of Art Programs for individuals with Parkinson's disease are generously supported by The Parkinson Council.