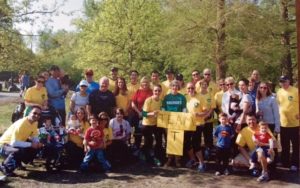 Feeling the local love.
Judi Guinan
Board Member. Grandmother. Optimist.  Wife of an athlete with Parkinson's.
How she joined the family. Judi Guinan's husband Tom was diagnosed with Parkinson's more than 11 years ago. "We were so overwhelmed. With a progressive disease, you know it's going to, well, progress. Then a social worker at the Pennsylvania Hospital movement center suggested we get involved in a walk," Judi said.
A beautiful day in the neighborhood. Today, Judi, Tom and their ever-growing Walk team raise thousands of dollars for the Council. "It's a wonderful day for us," she said. "Everybody gets to see their family and friends.  And of course all donors like to know where their money is going, and it's great to know it's going to people who live right here. Just this year my husband did two things that are Council-funded. He loves his physical therapy at Arcadia University."
A moving target. Tom has walked the Marine Corps Marathon, the Ring of Kerry in Ireland, and the Camino de Santiago, an ancient pilgrim's path that ends in northwestern Spain. "Get moving, and get involved in the movement against Parkinson's" is Judi's advice to anyone with PD. "It's something you can do and it's the way to handle this disease. Stay positive."